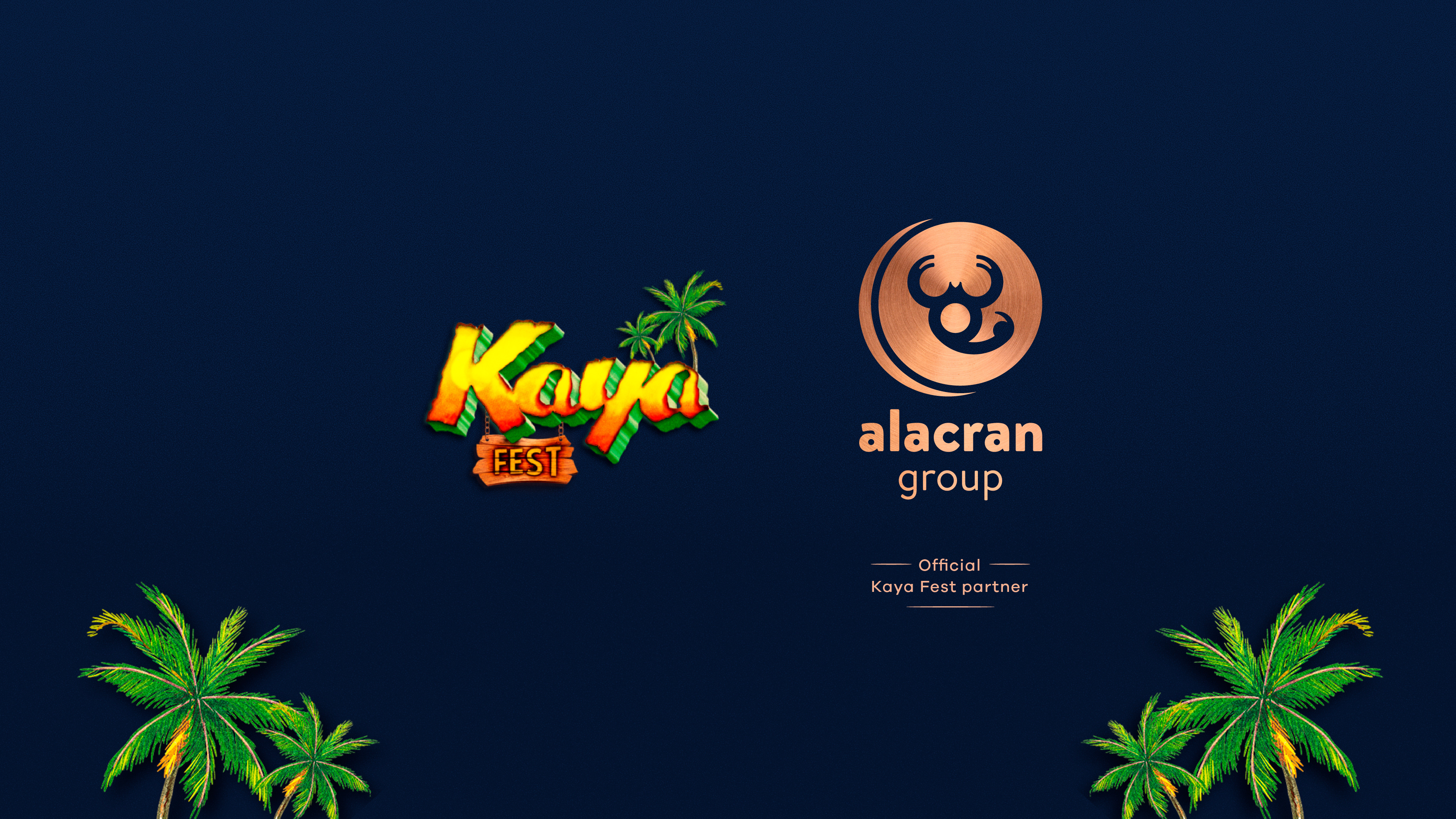 Alacran Group is a new media company with offices in Miami, Jamaica and London. The group encompasses one record label, two recording studios, live events, films and a foundation. Kaya Fest is an uplifting two-day music and cultural festival presented by the Marley family and the Bob Marley Foundation. 
The Alacran and Bob Marley Foundations work together to elevate Jamaica while empowering young children with tools and resources for building a better society.
This project was designed to promote the multimedia entertainment company, Alacran Group, as an official partner of the music and awareness festival, Kaya Fest, while sharing positive messages with people of all walks of life and all ages around the world. I incorporated positive messages from Bob Marley's songs in an elegant manner, aligning with my client's tastes and branding. 
"One Love" was one major message. I merged this statement of love and unity with the powerful closing tagline "Empowering Young Lives for Life". This also made "One Love" ideal for describing this collaboration between the Bob Marley Foundation and the Alacran Group. I volunteer for the Alacran Foundation; this message extends beyond this project to connect with their overarching philosophy that we are all connected as one true family on Earth. 
The fonts feature a copper metal texture to contrast with the Alacran Group's deep blue branding. 
Art direction, graphic design, creative writing, motion graphics, newspaper ads, animated social media ads, animated video content, merchandising, email blasts, billboards, outdoor advertising, sound editing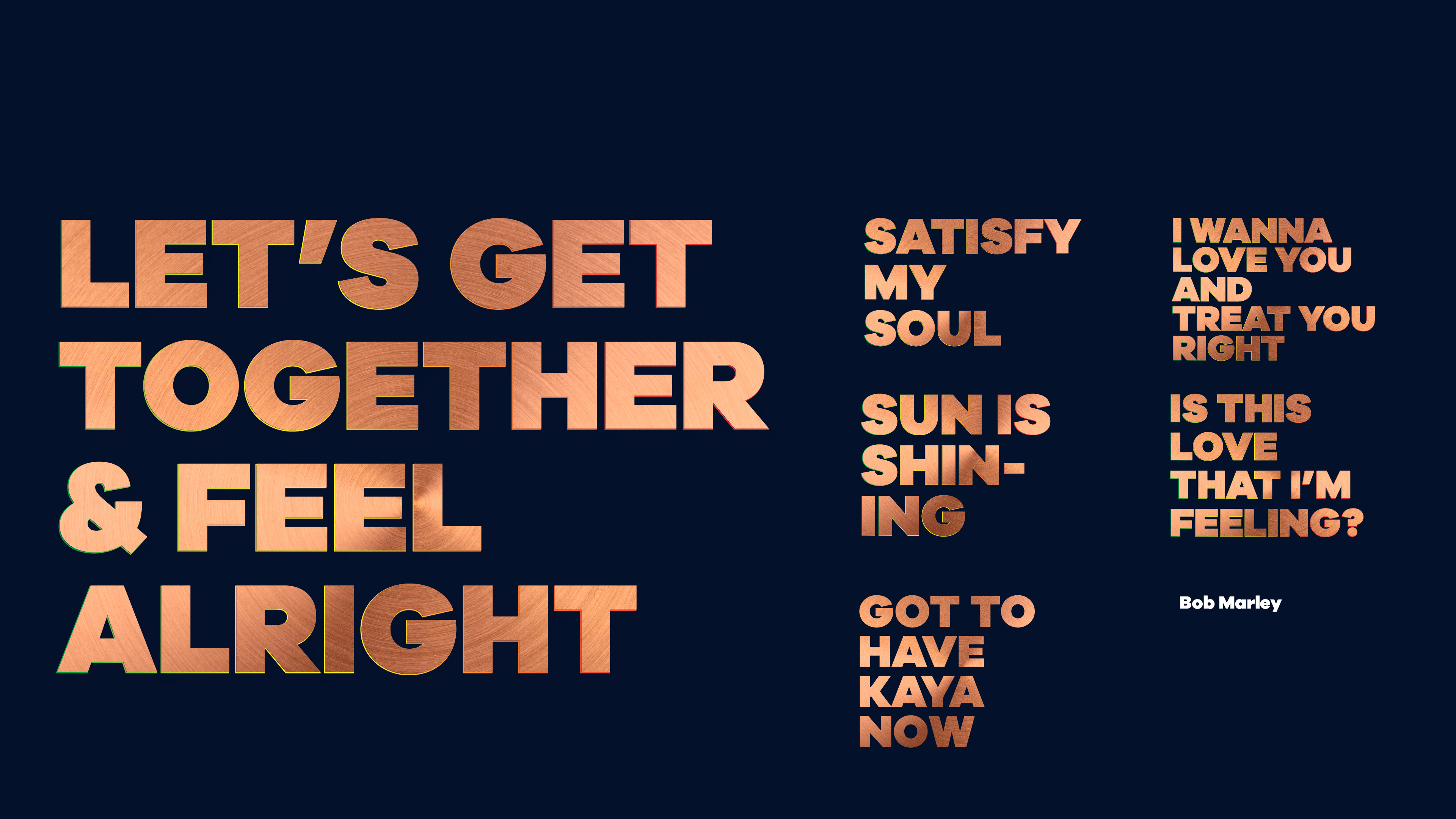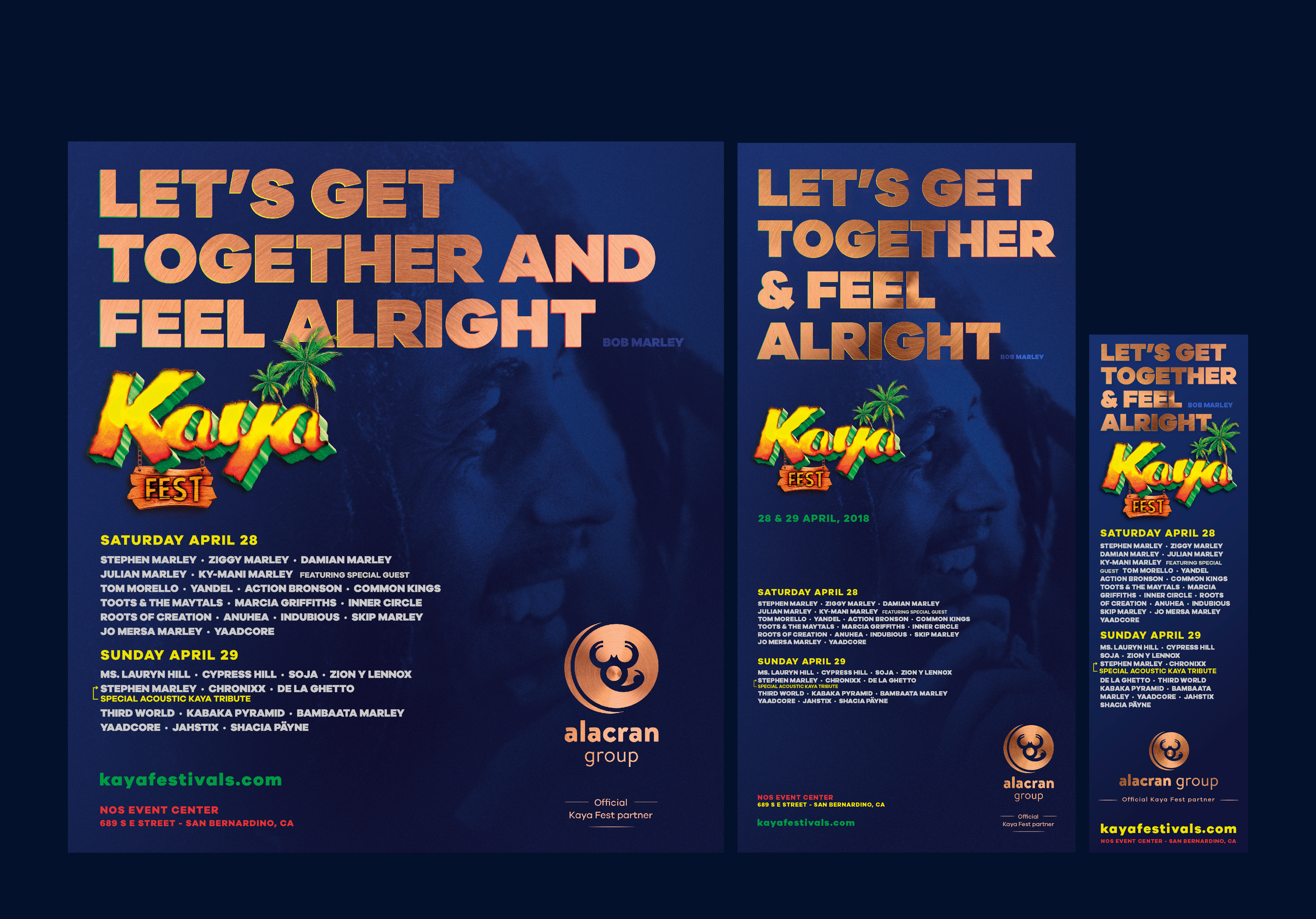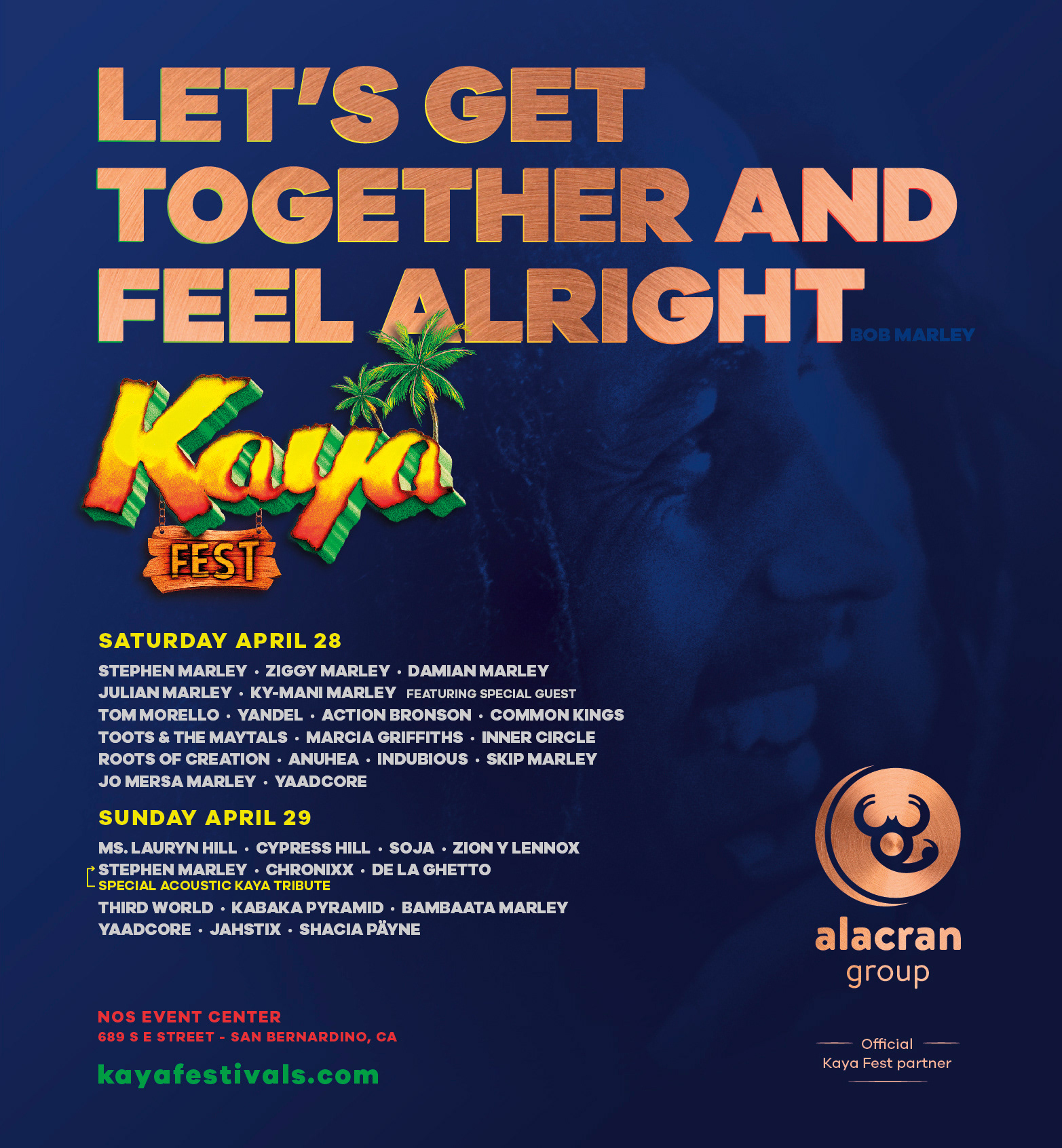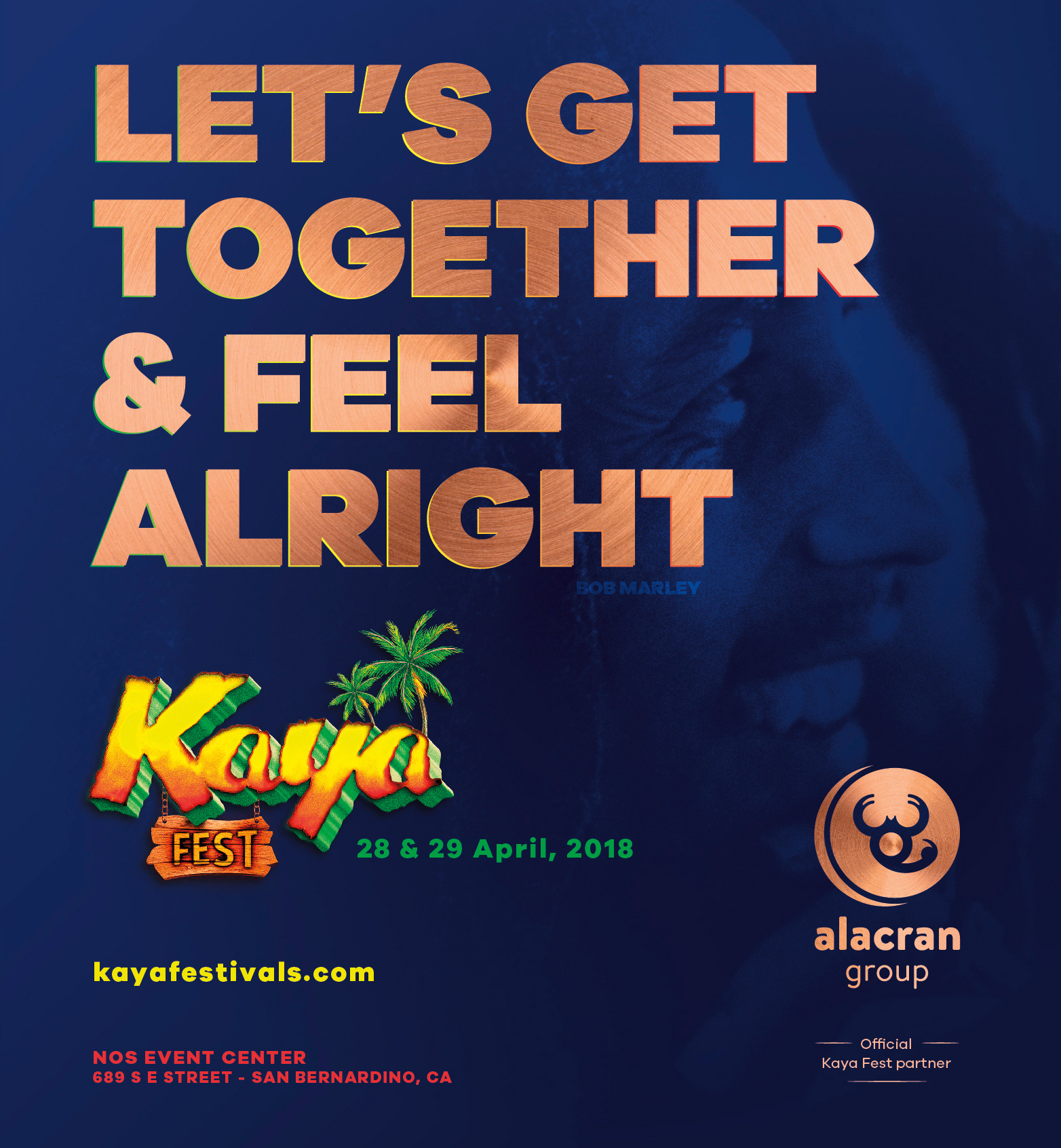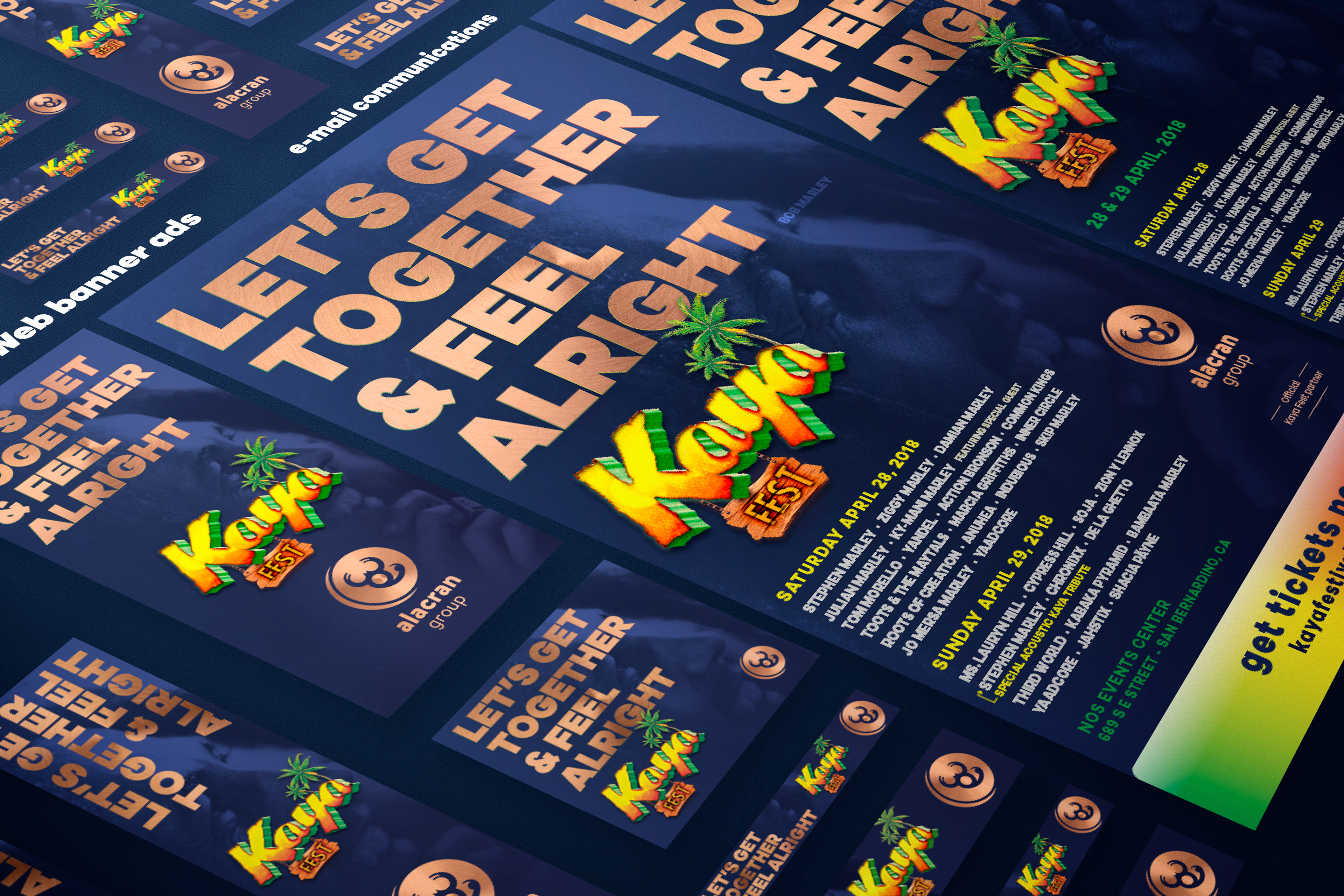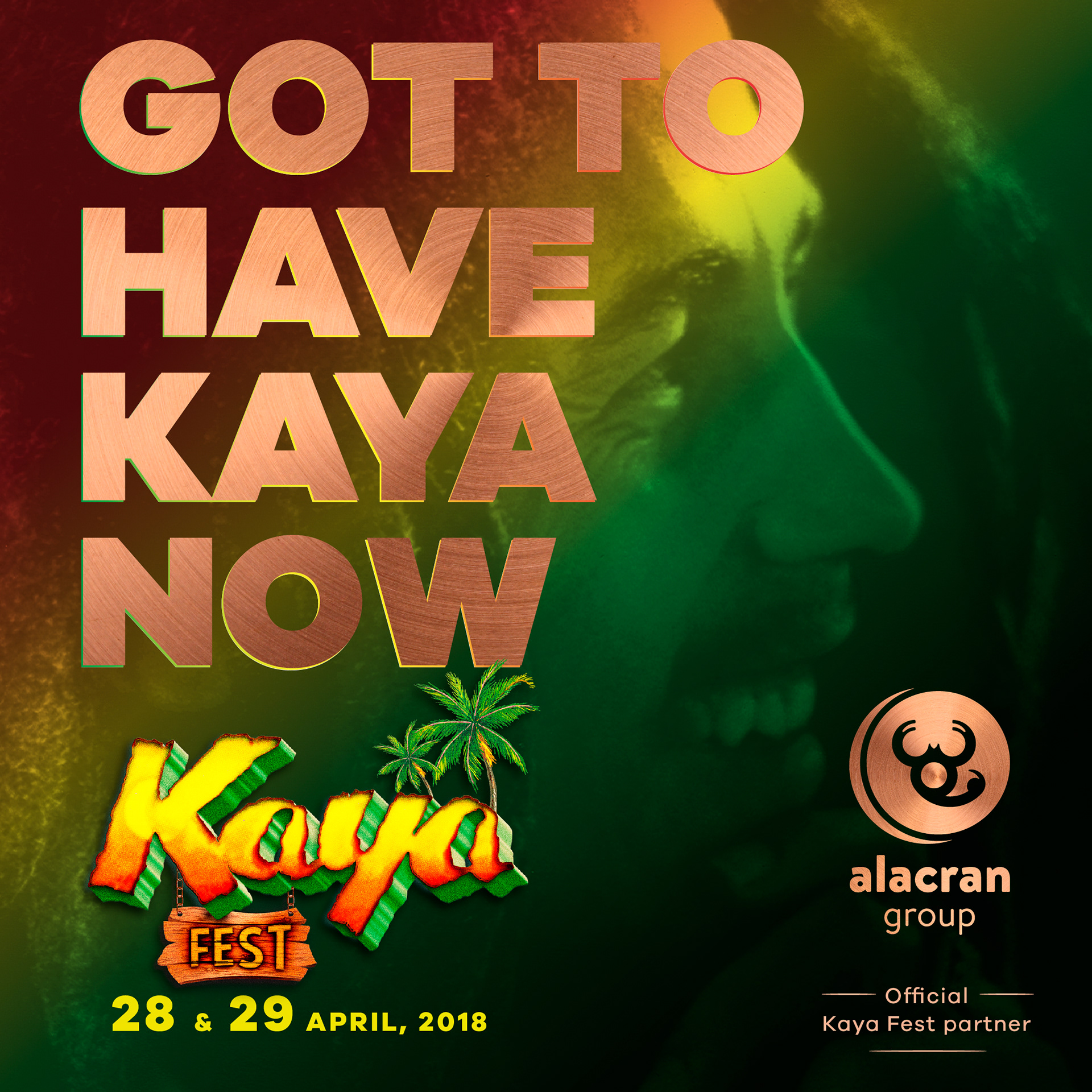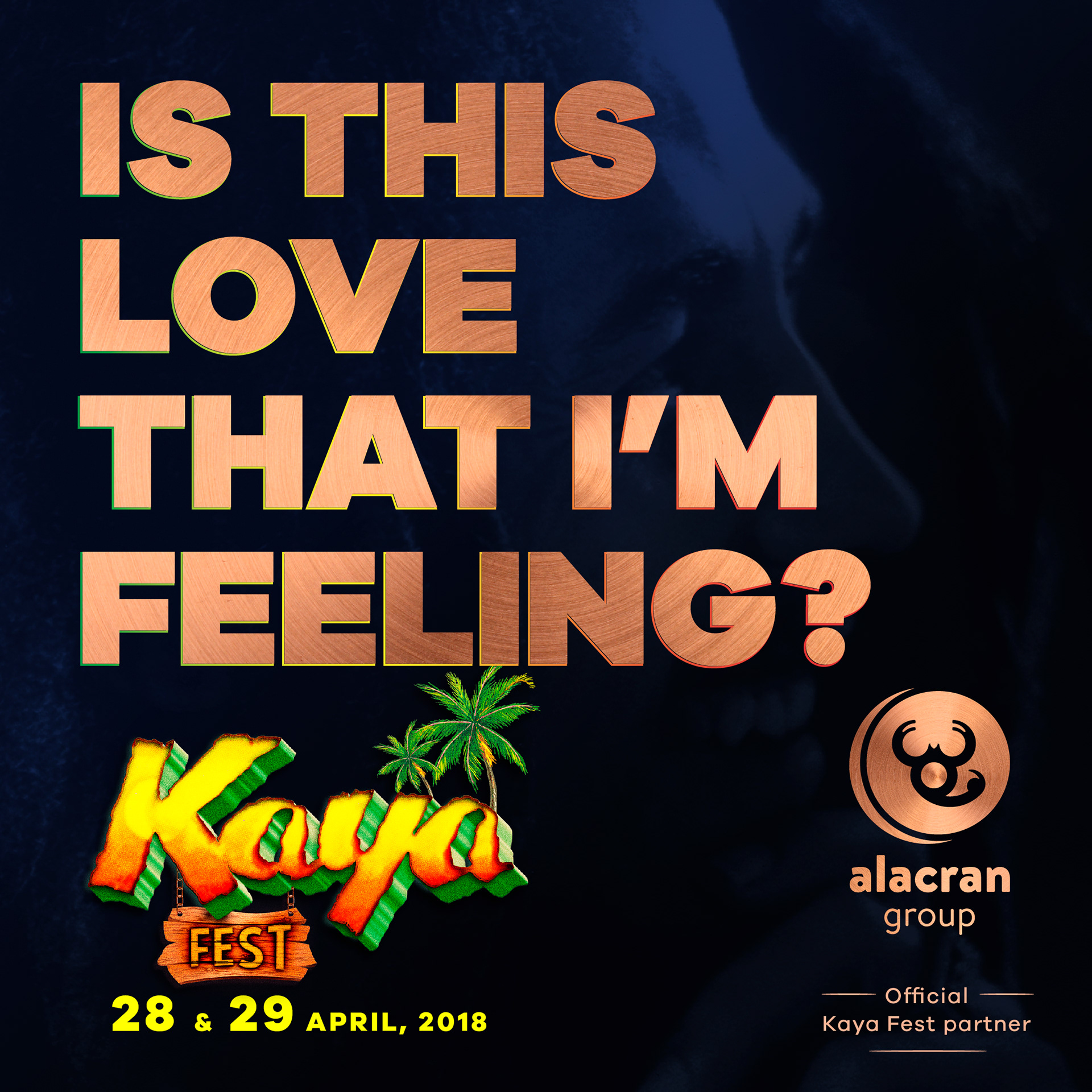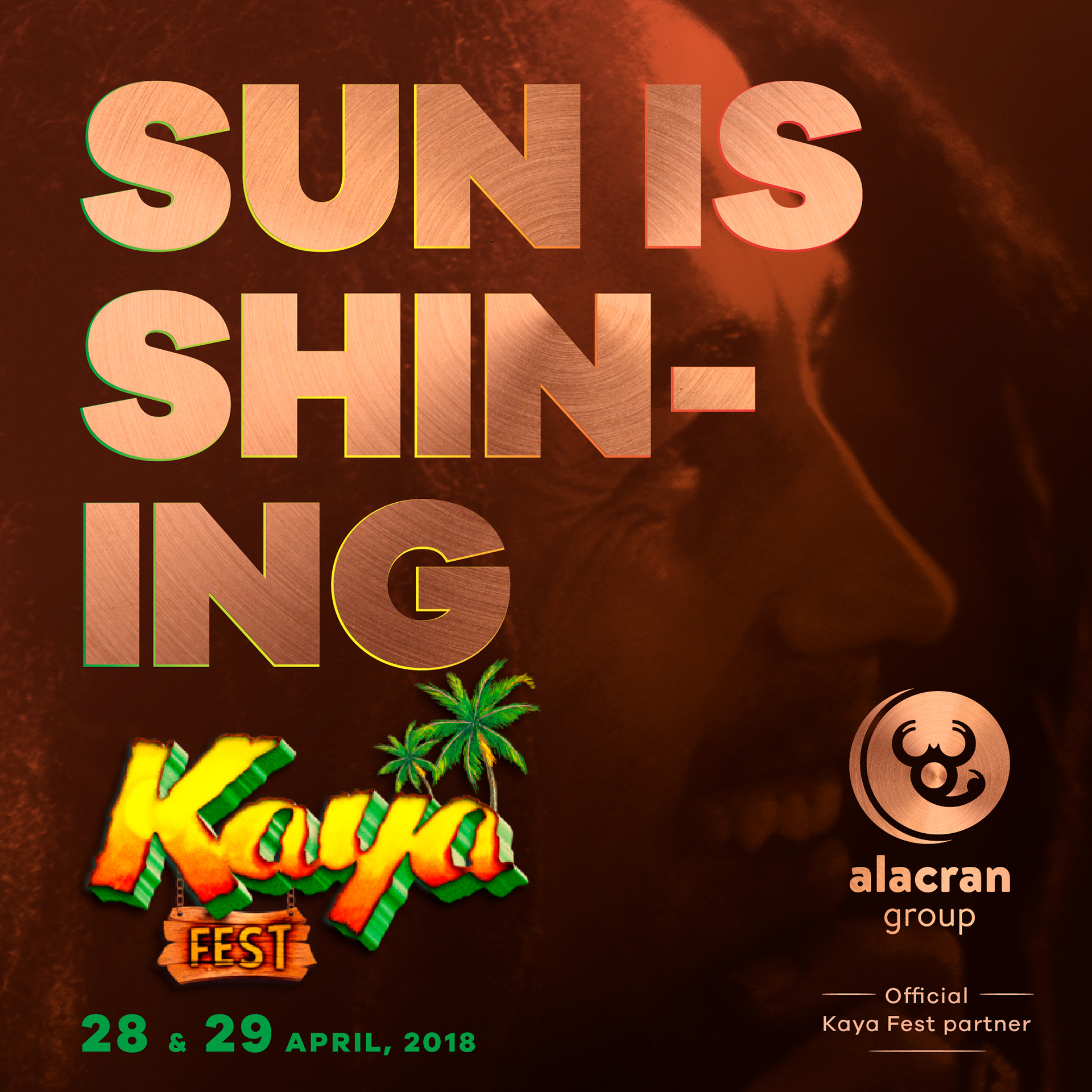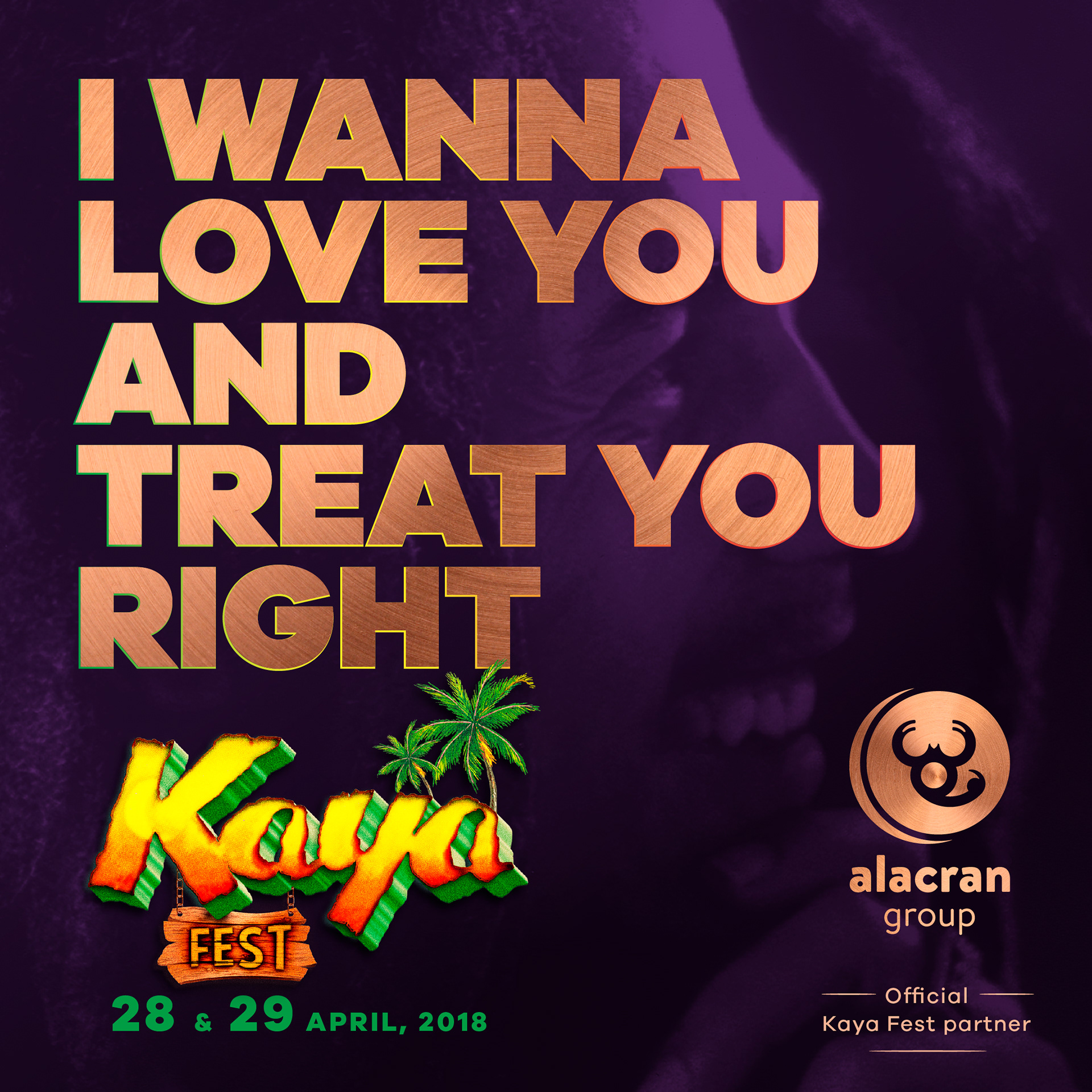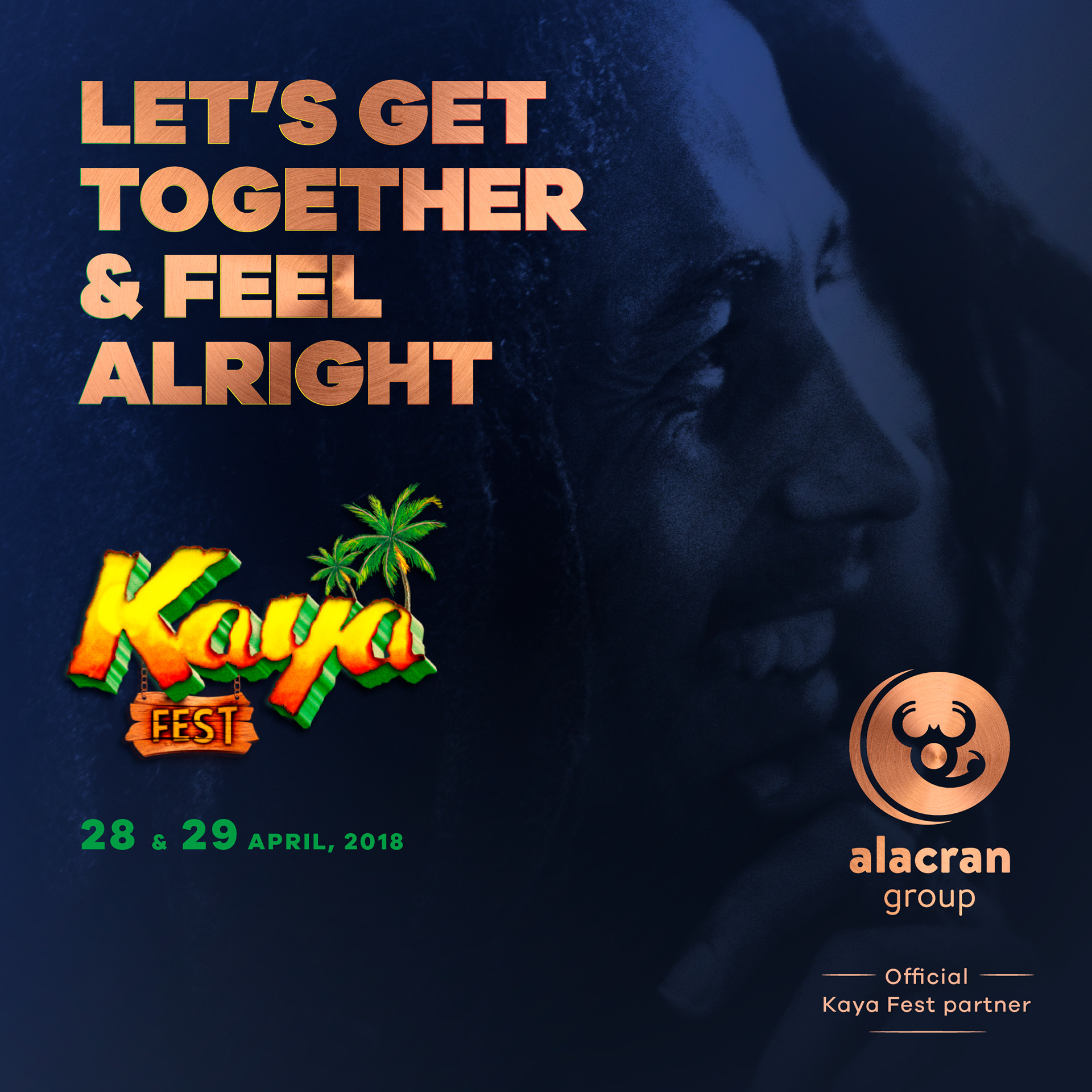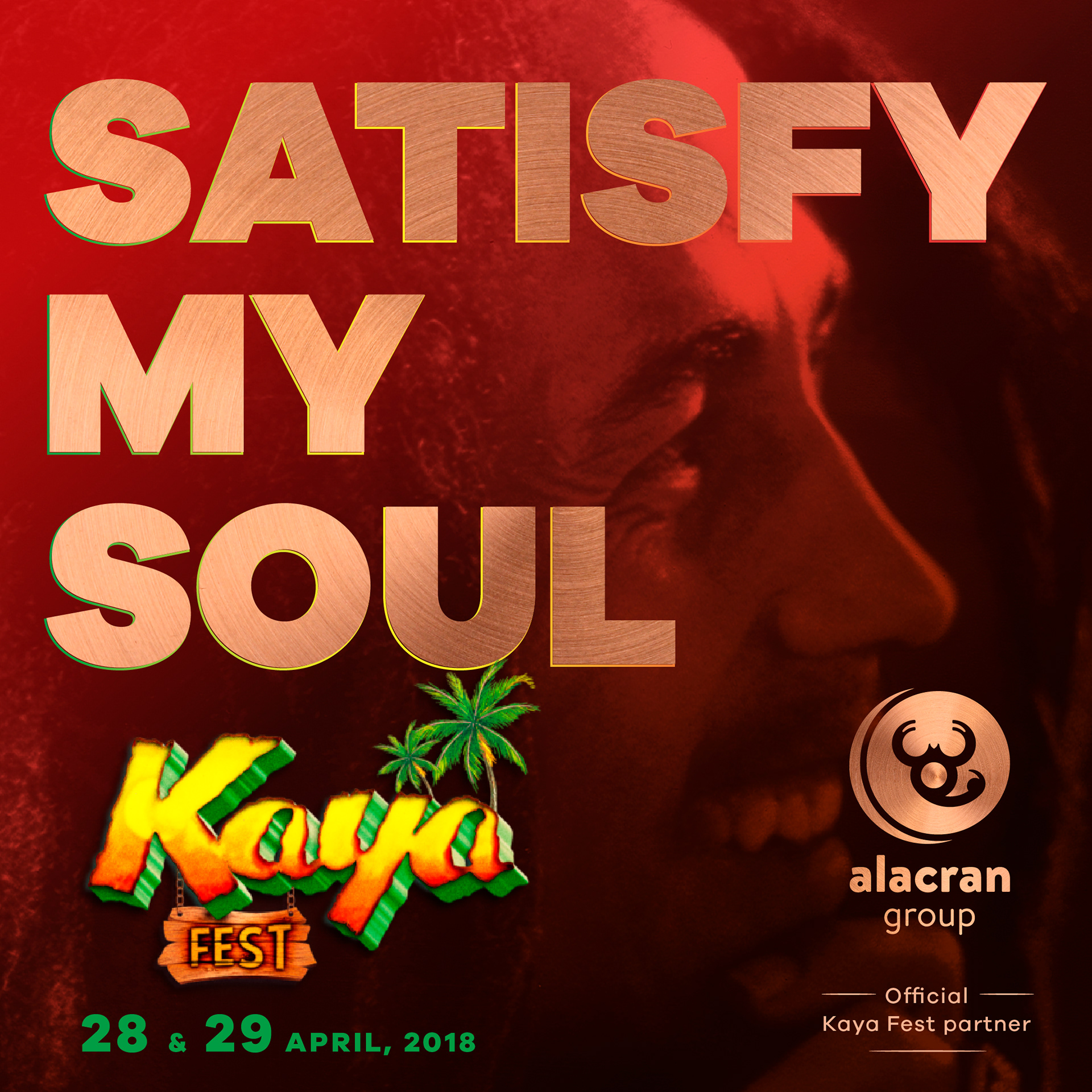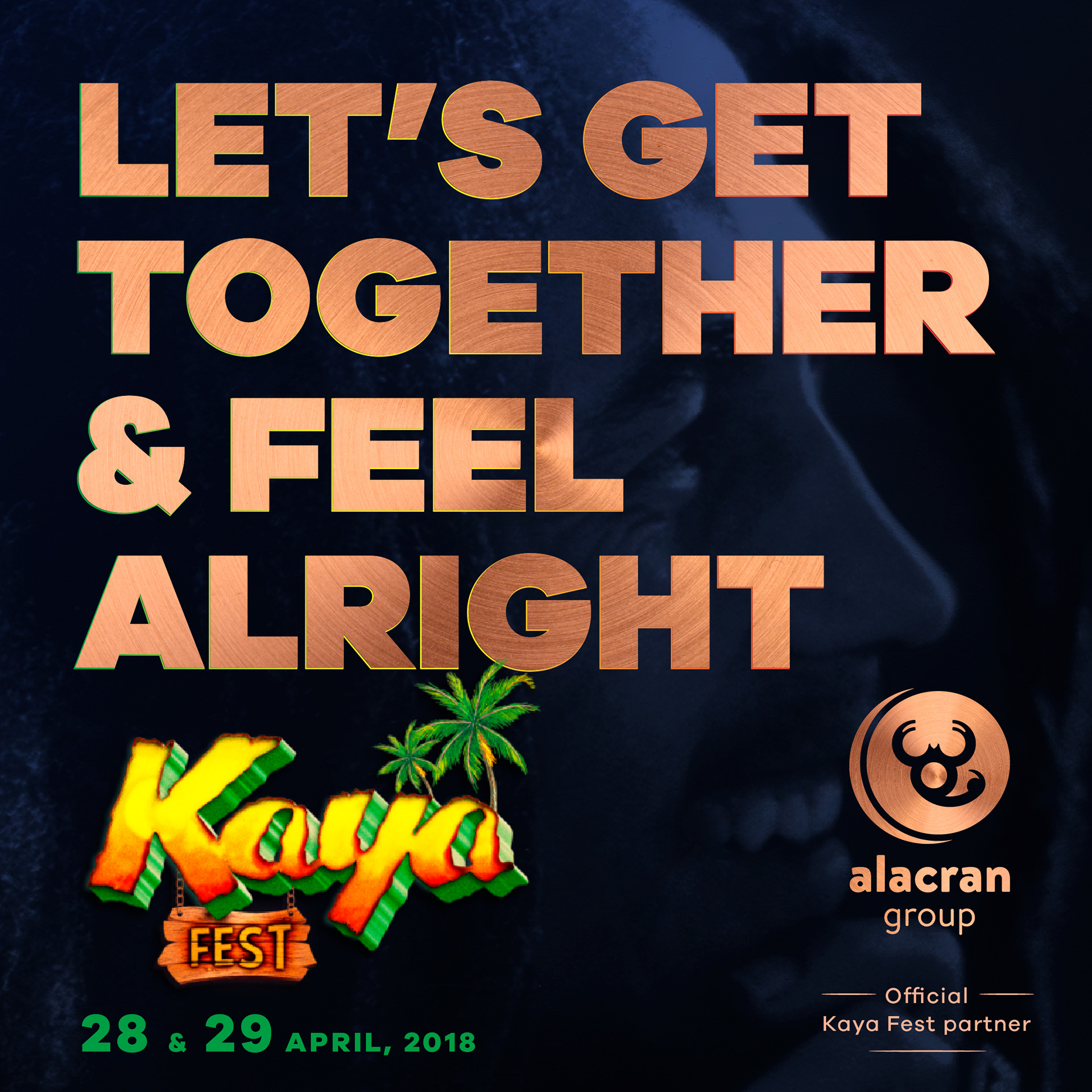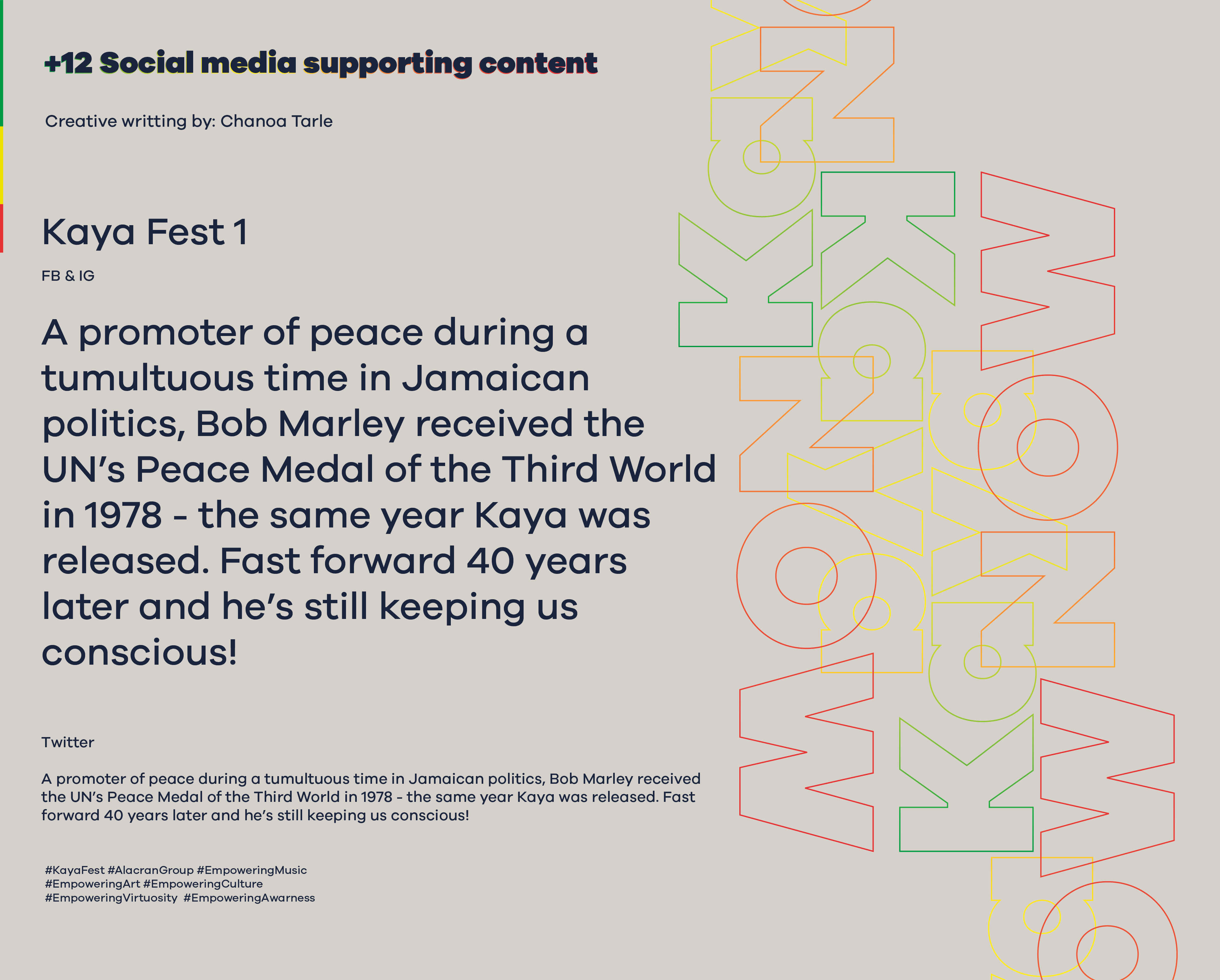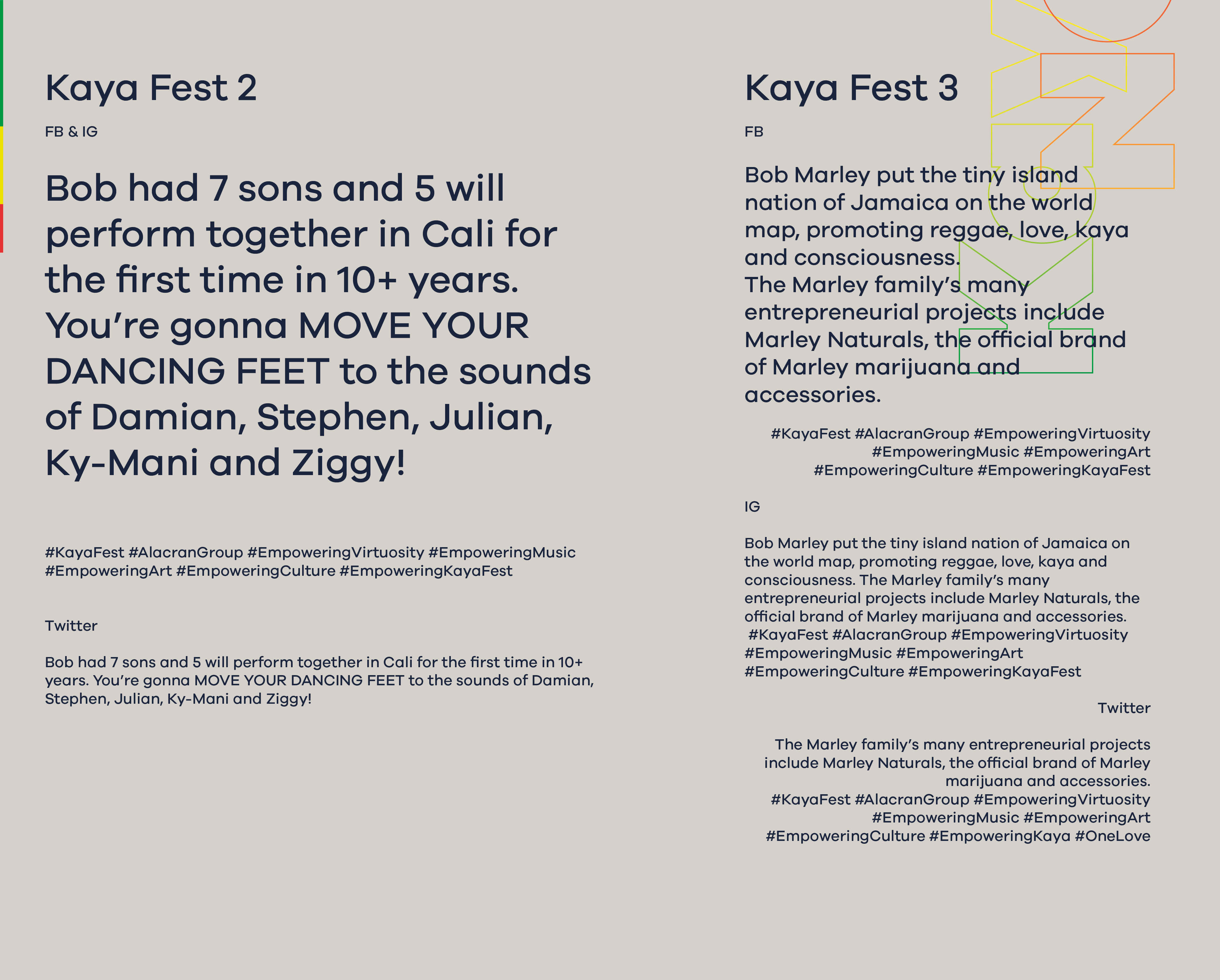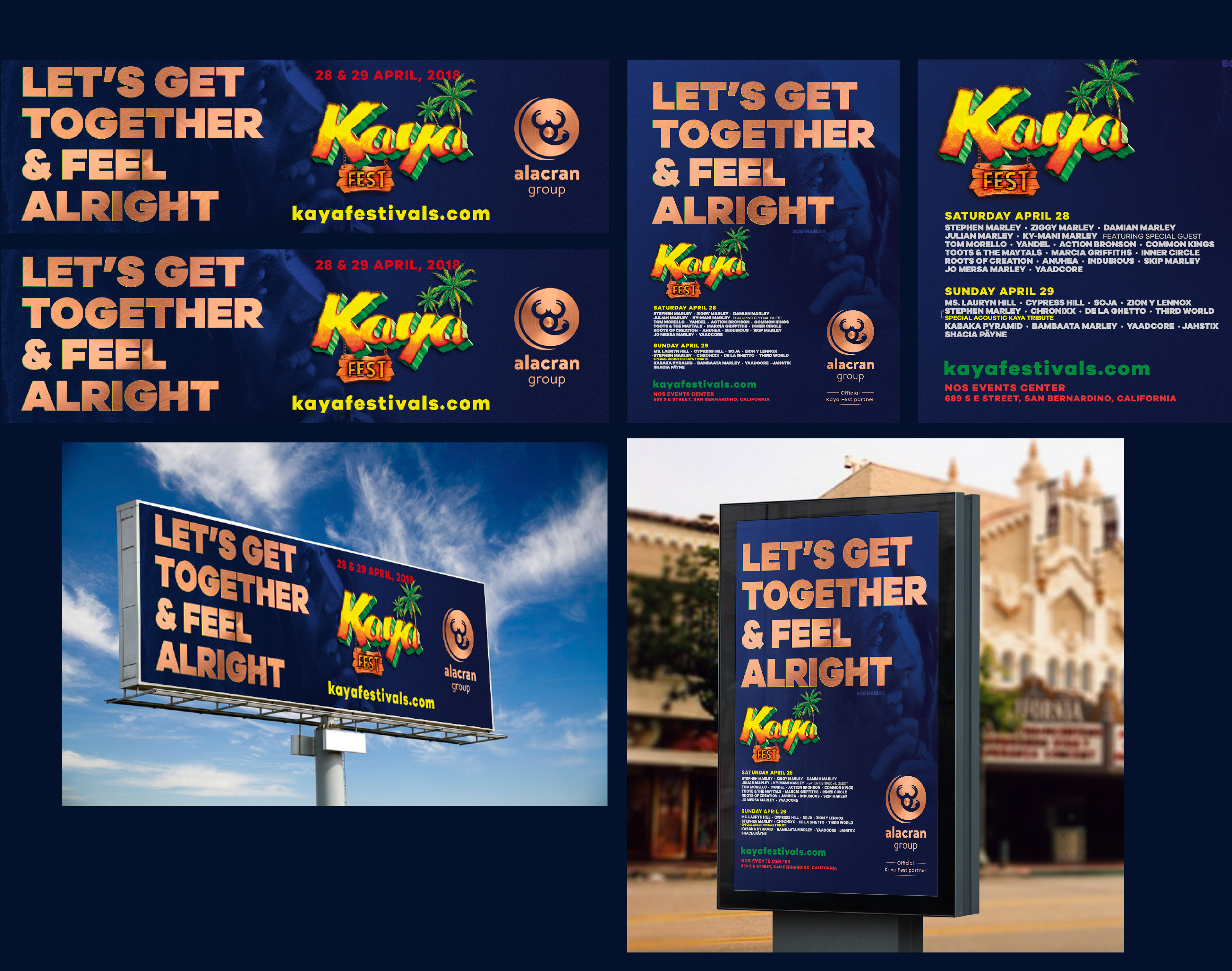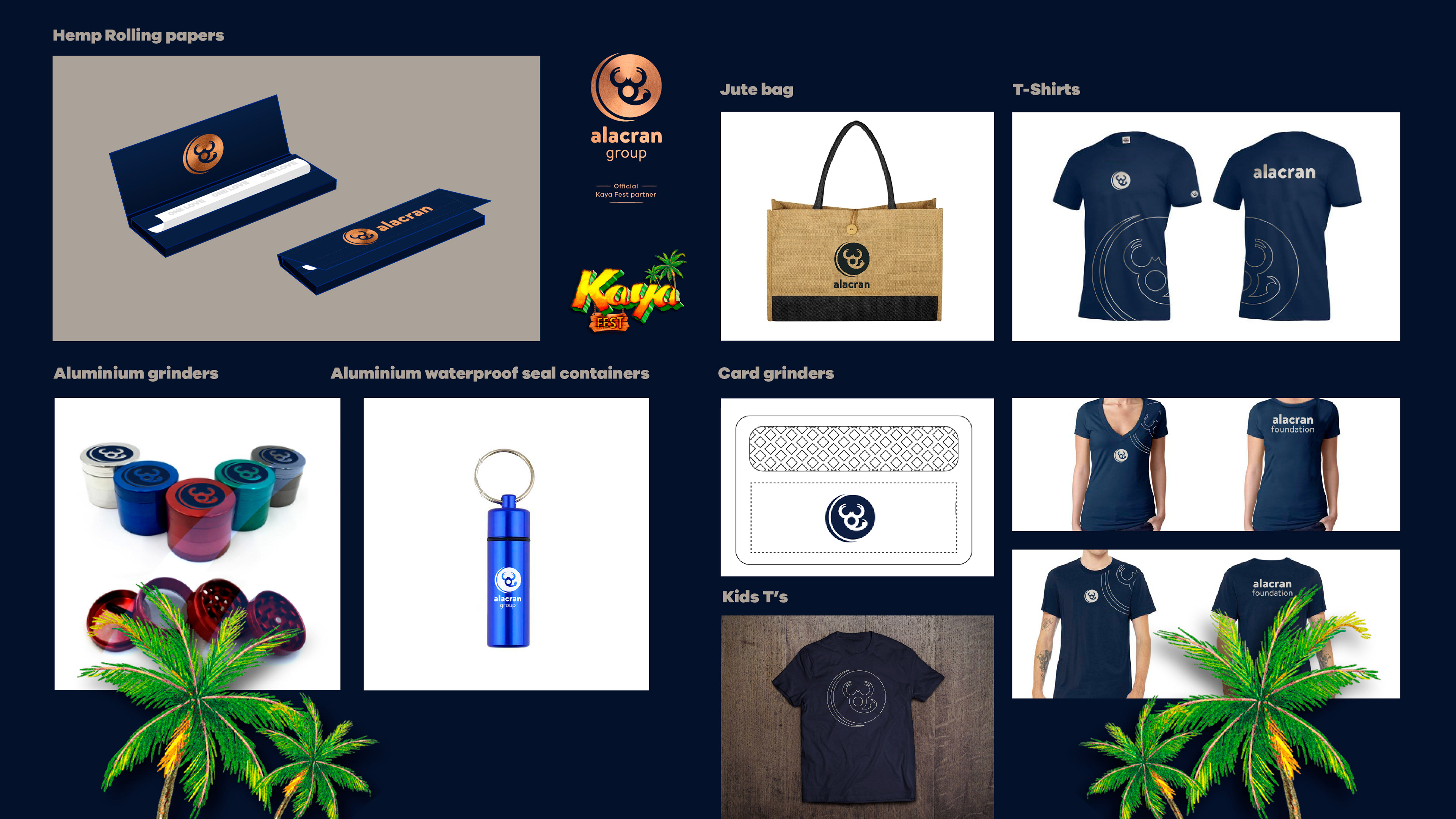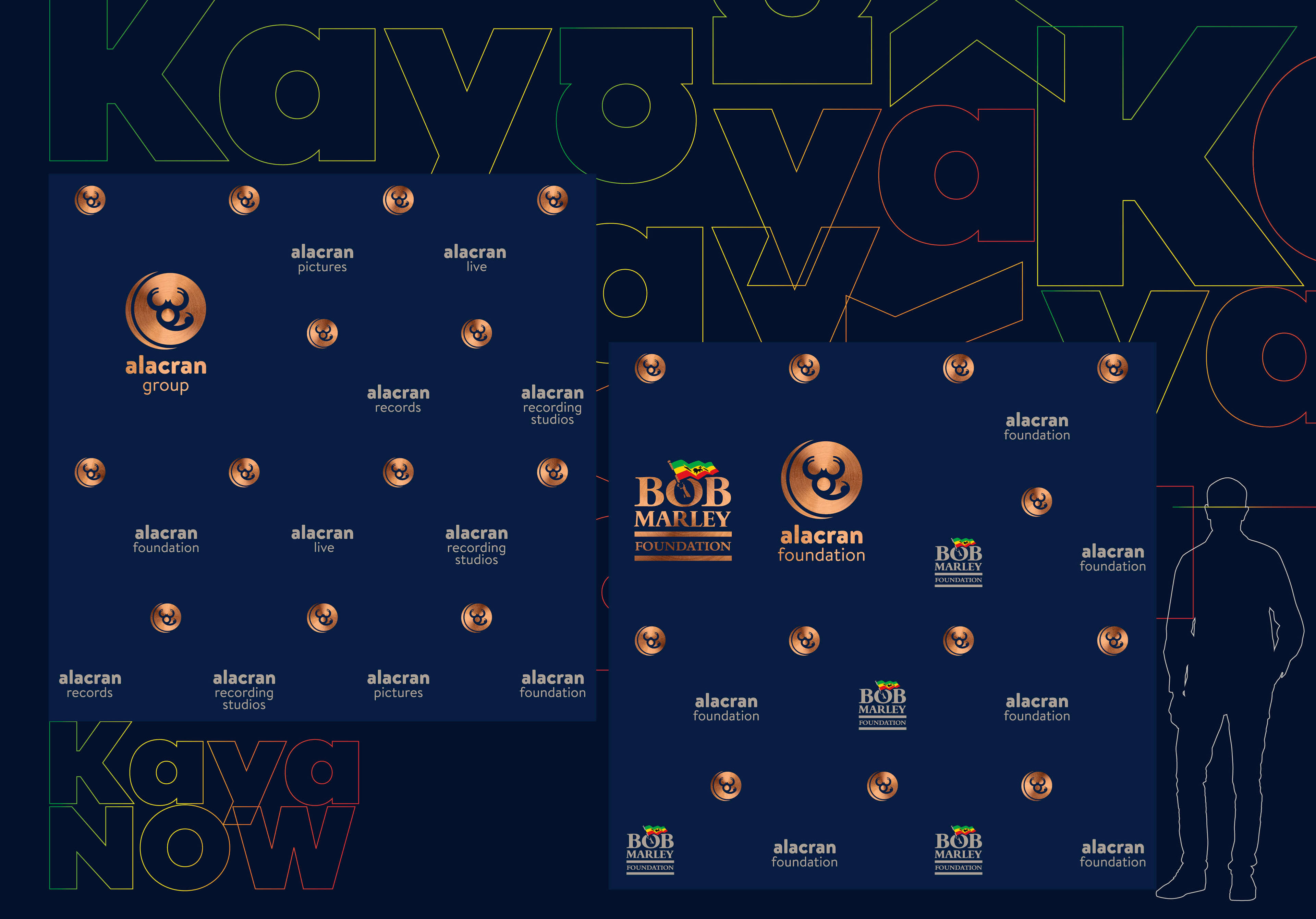 A beneficial thing for which one is grateful
All work done for the Alacran Foundation is voluntary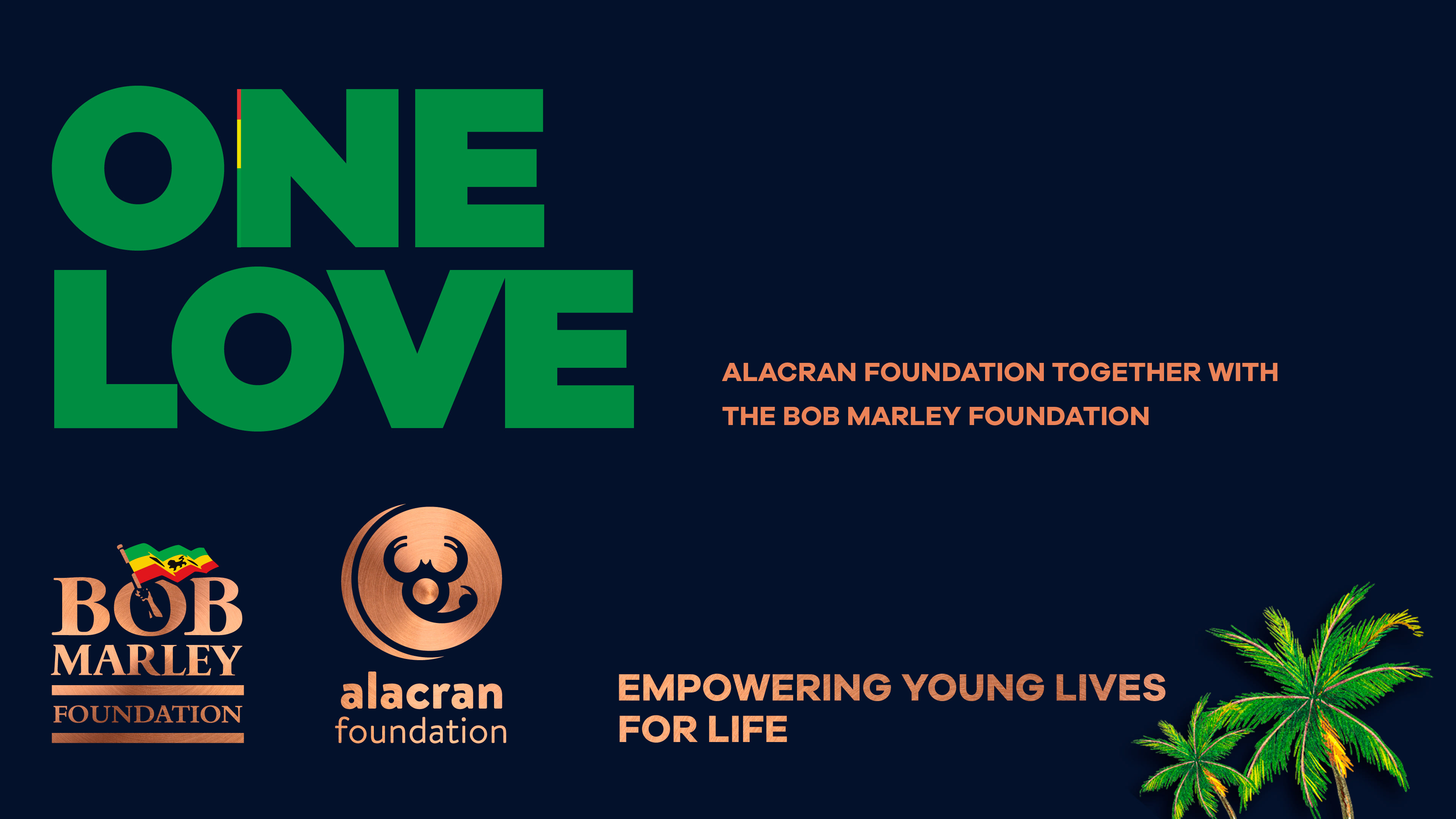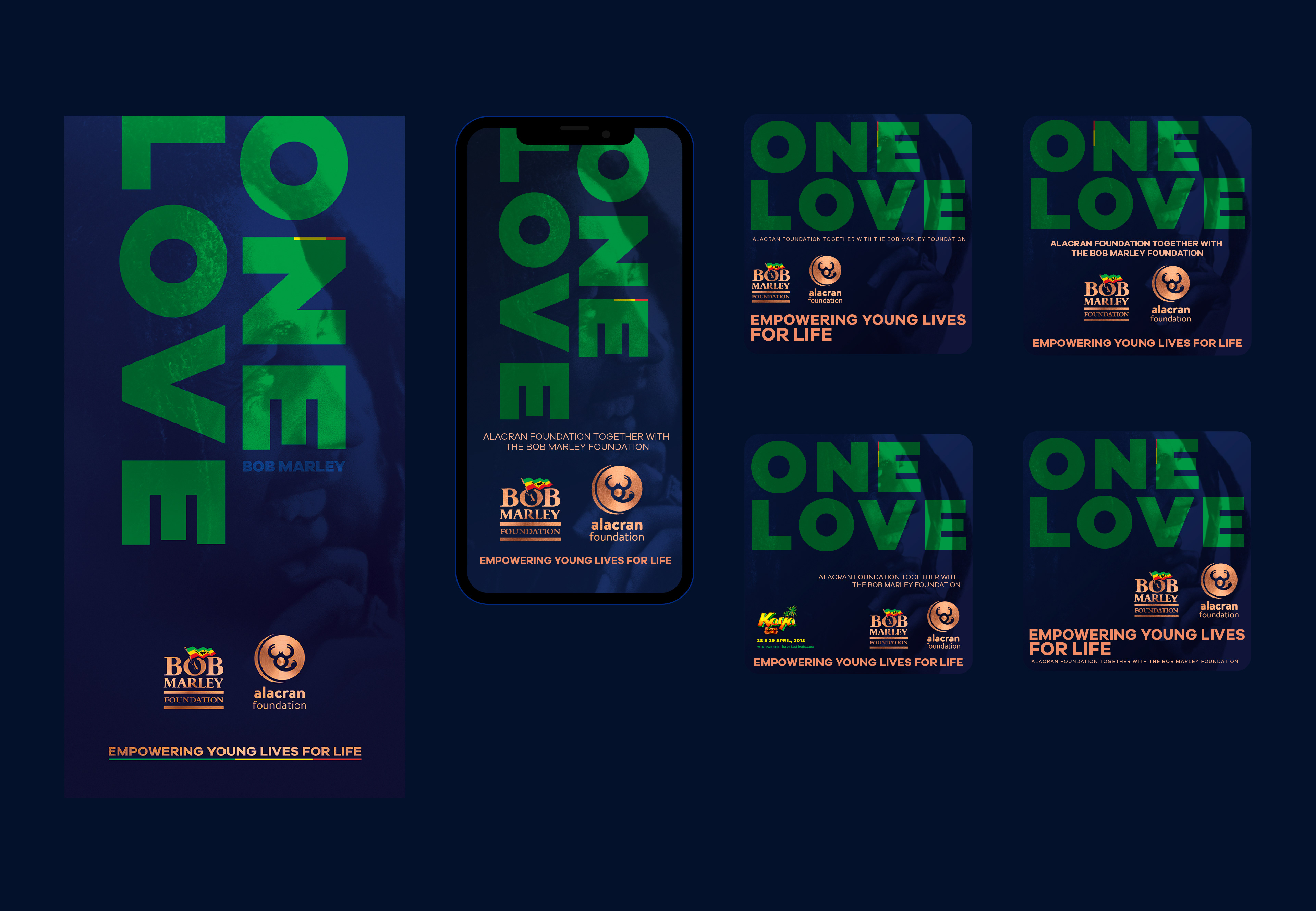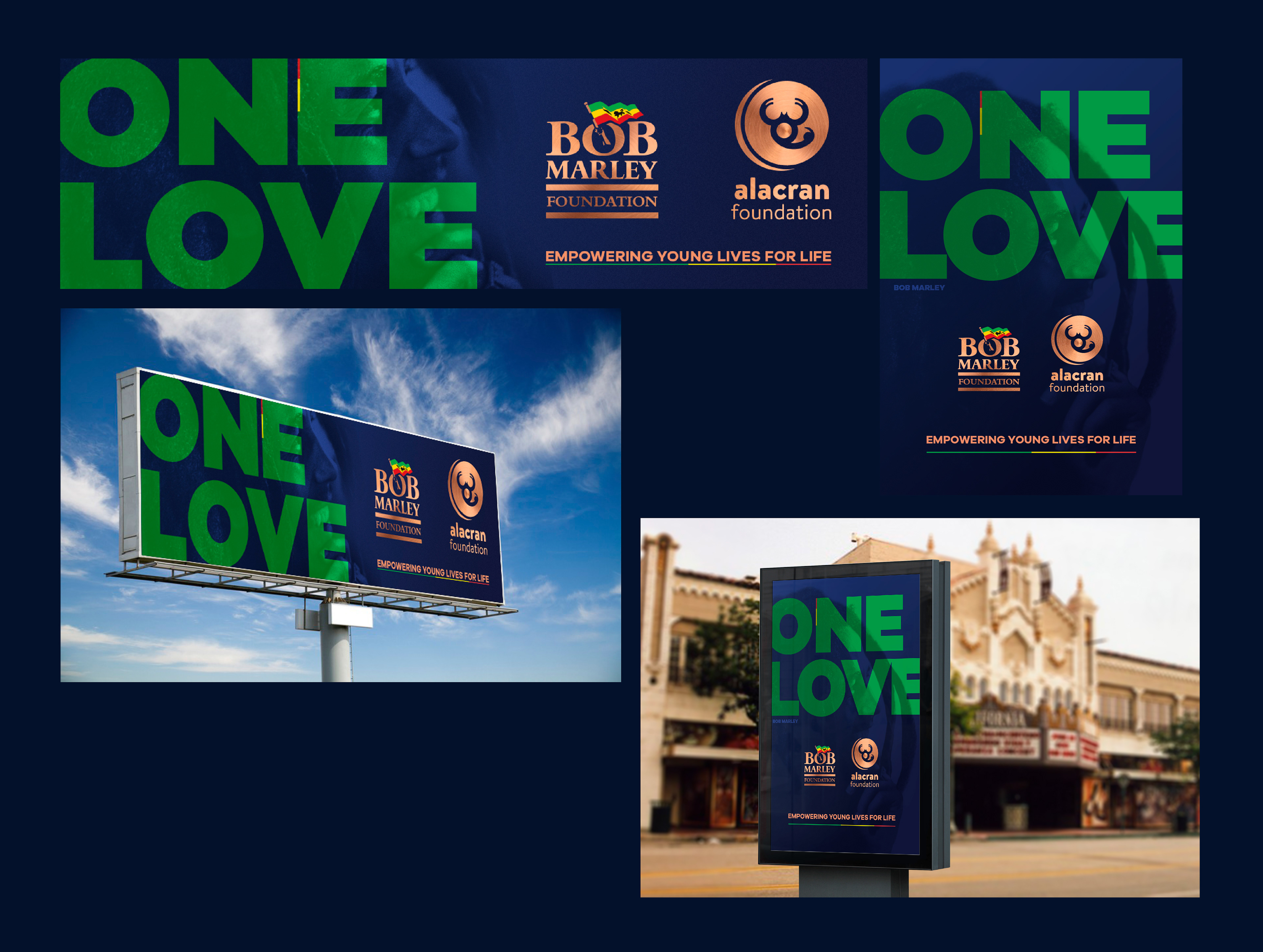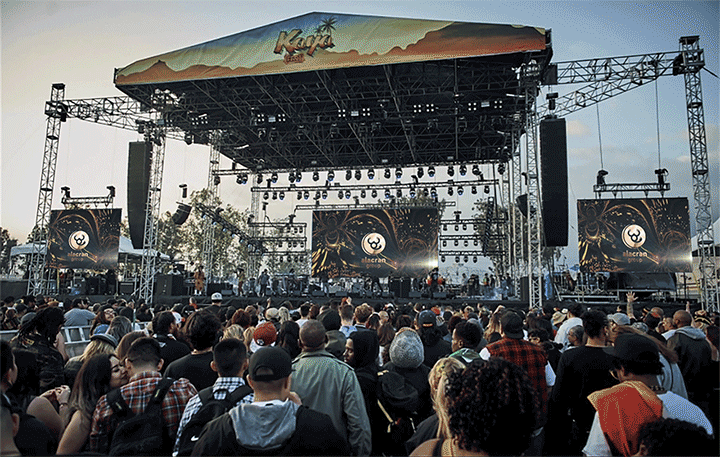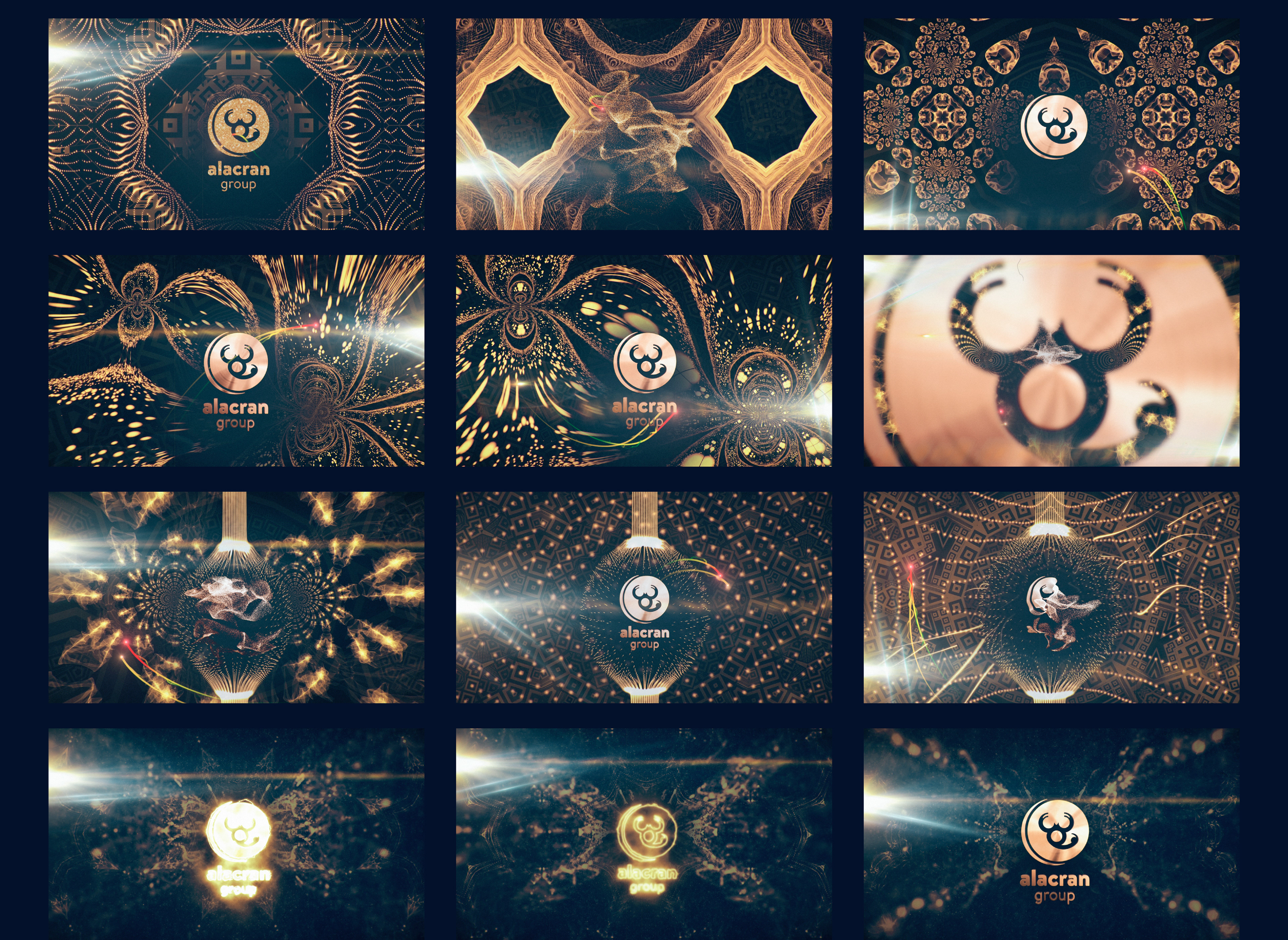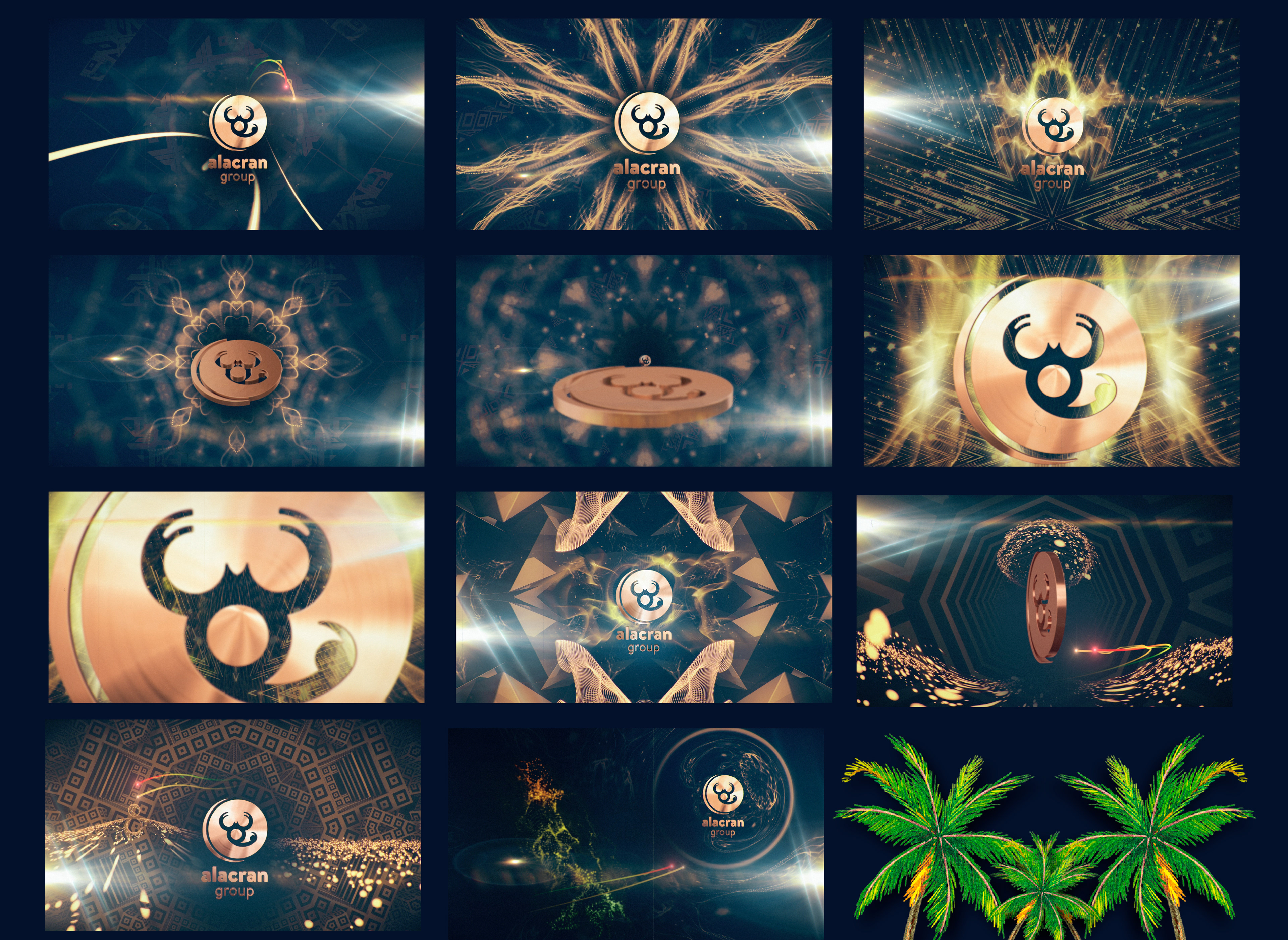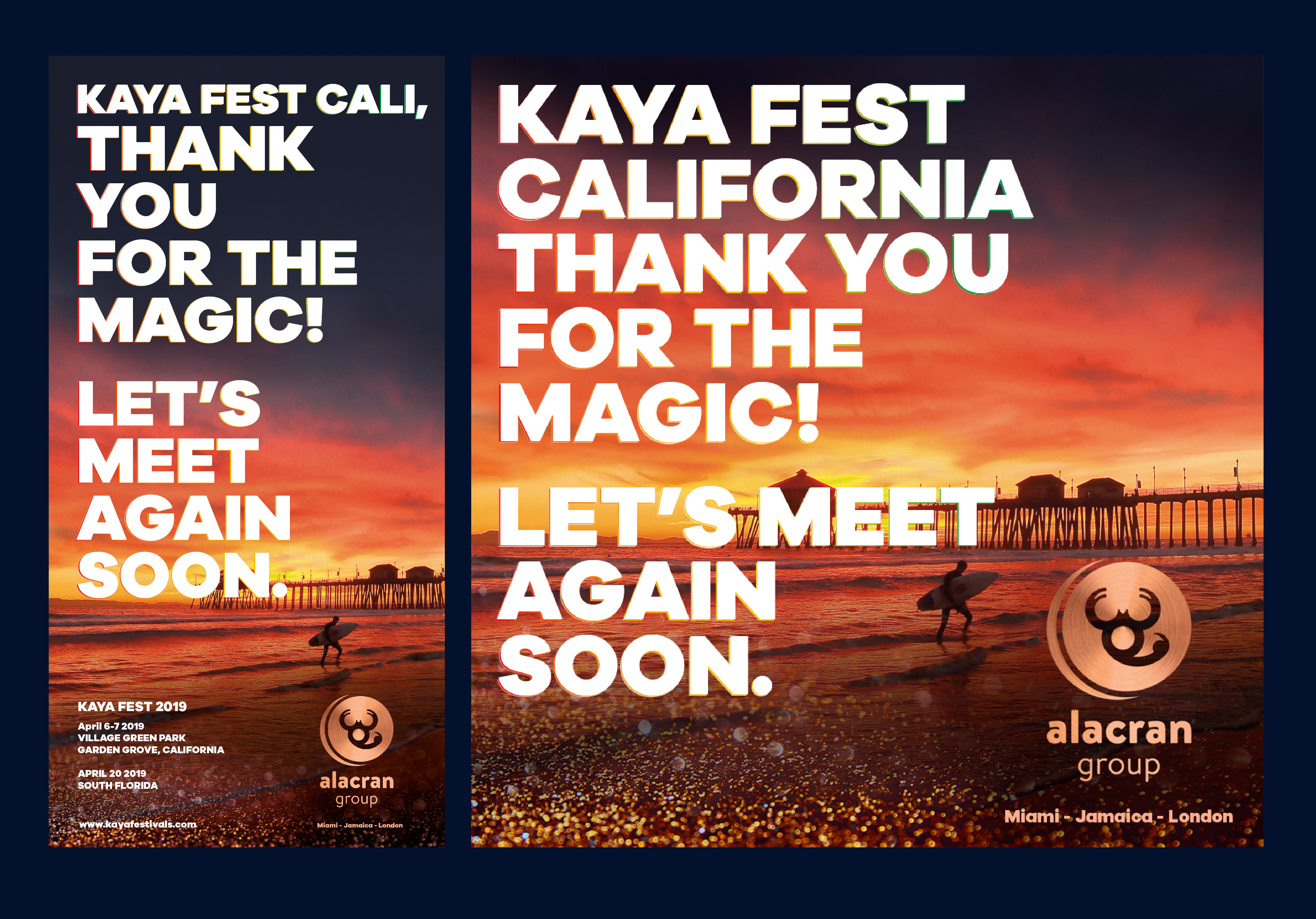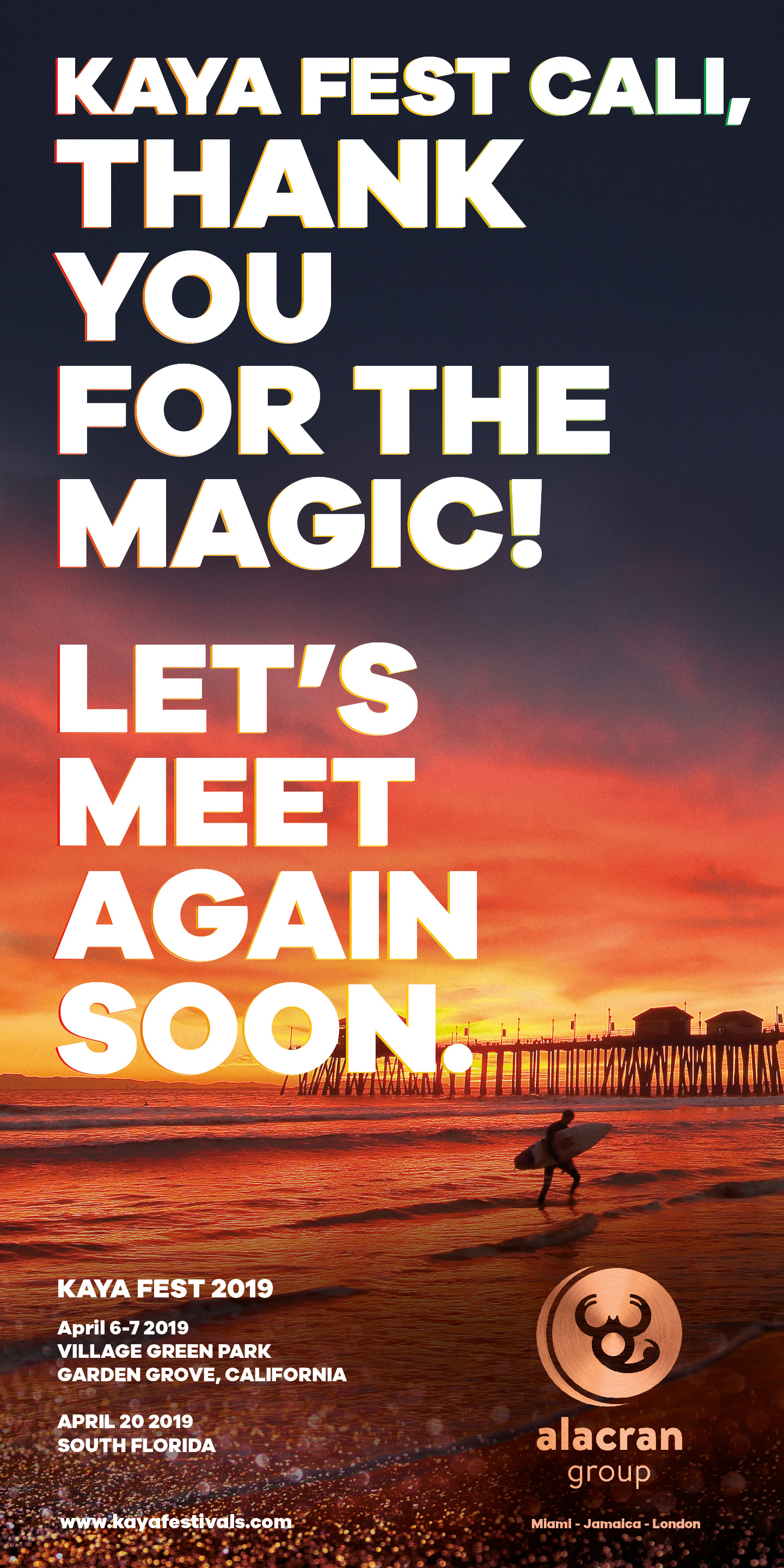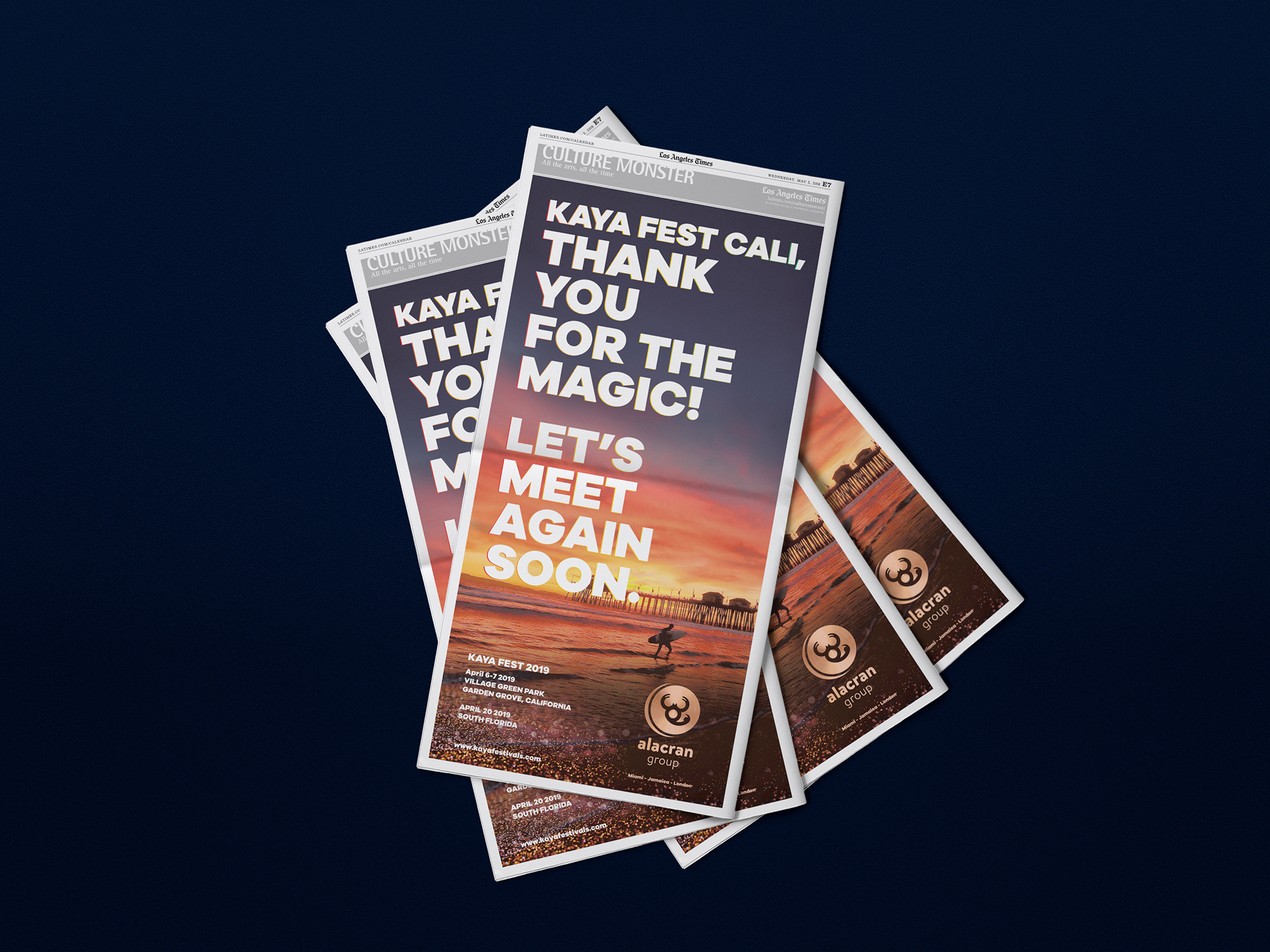 I decided to keep things simple for Kaya Fest, a production by the Alacran Group and The Fruit of Life Productions. Bob Marley's positive, uplifting messages sat at the heart of the event; understanding they were powerful enough on their own, I took care to make them the focal point of my concepts.
I chose the lyric

"Let's Get Together and Feel Alright"

which certainly encourages people to get together for a good time. Next, I chose the supporting messages, also from Bob Marley's songs:

"Sun Is Shining", "Satisfy My Soul", "Got to Have Kaya Now", "I Wanna Love You and Treat You Right" and "Is This Love That I'm Feeling?". 
I contacted newspapers and local magazines. I placed billboards across Los Angeles, including LAX, in San Bernardino (where the festival was held) and on the three main routes to that city. We also launched a digital campaign, leveraging insights from databases of local past events of a similar nature. This campaign included email blasts, social media content and social and digital ads.
We also promoted the collaboration between the Bob Marley Foundation and the Alacran Foundation by sharing the message

"One Love"

in newspaper ads, LA billboards and social media content. Finally, we launched a closing ad campaign after Kaya Fest came to a close, thanking Cali via newspaper ads and social media.
While this project centered around the Kaya Fest event, it made an impact that extended far beyond the festival grounds. Both the Bob Marley Foundation and the Alacran Foundation united to promote art, music and sports while successfully elevating the people of Jamaica. 
It was an honor to participate in this project. I worked with an incredible team combining

Alacran's vision and the Marleys' message of unity and love

. I worked with some of Bob Marley's most iconic images, up close and in high resolution. I listened to his music and songs from his musical family over the course of one and a half months of non-stop work. I coordinated with the media, producers, artists, merchandisers, adapters, designers, motionographers, animators, creative writers and social media specialists.

It was a positive experience for all of us and our collaborations were a success.

​​​​​​​
All appreciations, and comments are welcome